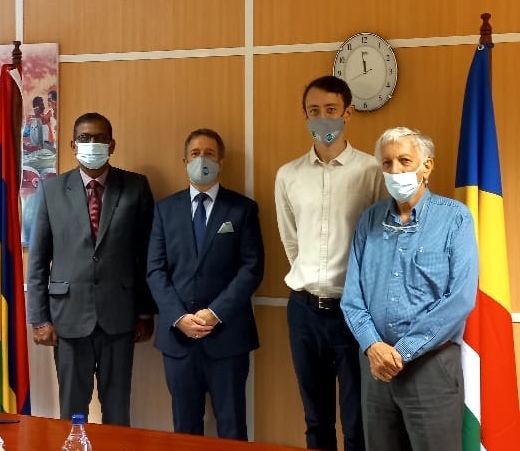 8 February 2022. The International Secretariat of the Fisheries Transparency Initiative (FiTI) met with a delegation from the Mauritian Ministry of Blue Economy, Marine Resources, Fisheries and Shipping to discuss the value of transparency in achieving sustainable fisheries management in Mauritius and the wider Indian Ocean region.
Hon. Minister Sudheer Maudhoo led the Mauritian delegation, which also included Permanent Secretary for Fisheries, Raj Kishore Bunjun, and Legal Officer, Gereesha Topsy-Sonoo, while the FiTI International Secretariat was represented by its Executive Director, Sven Biermann, and Regional Coordinator (Western Indian Ocean), Will May.
The discussions were held in Seychelles on the sidelines of a five-day meeting between Seychelles and Mauritius to renegotiate the bilateral fisheries agreement held between the two Indian Ocean island states. For more information about the current agreement, please click here.
Engaging talks centred on the benefits of Mauritius joining the FiTI, which include improvements in the quality and public availability of fisheries information produced by the Mauritian government, financial incentives regarding the exploitation of resources and an increase in public appreciation of and trust in Mauritius' marine fisheries sector, among others.
Hon. Minister Maudhoo and Mr. Biermann also discussed the importance of regional information sharing for sustainable fisheries management. To this end, Mr. Biermann briefed Hon. Minister Maudhoo on the status of the FiTI in the Western Indian Ocean region:
Mr. Biermann emphasised that the FiTI provides Mauritius an opportunity to demonstrate its leadership in ocean governance in the region and expressed his hope that the government will soon make a public announcement to join the initiative.
Also present at the meeting were Philippe Michaud and Cyril Bonnelame, who are respectively the Chair and a Member of Seychelles' FiTI National Multi-Stakeholder Group (MSG). As a global multi-stakeholder initiative, the FiTI – through National MSGs – ensures the equal participation of governments, the private sector and civil society in a country's FiTI implementation process. Mr. Michaud and Mr. Bonnelame shared their experiences of implementing the FiTI in Seychelles, highlighting the increased public trust in government data that can result from a country's engagement with the FiTI.
The meeting follows an initial country mission to Mauritius conducted by the FiTI International Secretariat in October 2021.