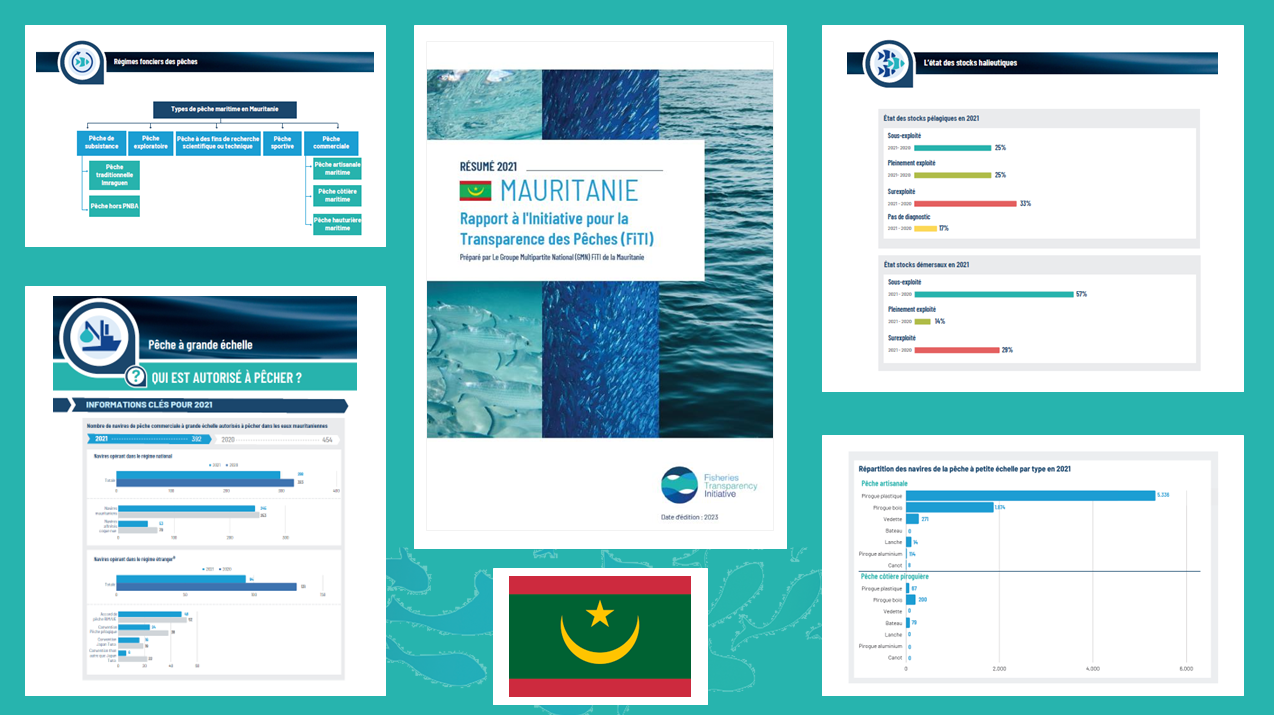 26 April 2023. The FiTI National Multi-Stakeholder Group (MSG) of Mauritania published today its third annual FiTI Report, covering information for calendar year 2021.
Through this new FiTl Report, the National MSG continued strengthening the country's efforts to improve transparency and enables a better understanding of the current situation as well as the benefits and challenges of the marine fisheries sector. This report also aims to ensure the visibility of the Government of Mauritania's considerable efforts towards transparency and good governance of marine fisheries to national and international stakeholders.
For this FiTl Report, Mauritania's National MSG compiled information for the first six transparency requirements of the FiTl Standard. The report was prepared by Mr Moustapha Kébé and Mr Abderrahmane Boujoumaa between December 2022 and February 2023, acting as the Report Compilers for this report. The report was reviewed and approved by Mauritania's National MSG on 16 March 2023.
The report highlights that, inter alia, despite the fact that the country does not have an online, database-based vessel registry that complies with the requirements of the FiTI Standard, the government has made significant efforts to improve vessel information provided in a spreadsheet format. Information on small-scale fishing licences is also now available.
However, a number of important information categories are still not publicly accessible, such as accurate information on the total volume of discards.
In the context of this FiTI Report, the National MSG has not issued any new recommendations to the national authorities of Mauritania on how to gradually improve further the levels of public access to information and public debates. Instead, the National MSG has reiterated that various recommendations from the 2019-20 FiTI Report have not yet been addressed.
Mauritania's 2021 FiTI Report was technically and financially supported by the German Agency for International Cooperation GmbH (GIZ) within the framework of the "ONE WORLD – No Hunger (SEWOH)" initiative, funded by the Federal Ministry for Economic Cooperation and Development (BMZ).
Similar to the previous report, Mauritania's 2021 FiTI Report has been divided into two distinct sections: a 'Summary Section', which provides a high-level overview of the current situation of Mauritania's marine fisheries sector, and a 'Detailed Section', which delves into greater detail according to each of the FiTI Standard's transparency requirements. Both sections, as well as complementary online information and the official press release can be found on:
The FiTI National Secretariat conducted a country mission to Mauritania (24-28 April 2023) to participate in the launch activities of the government and the National MSG, and to discuss the current status of the FiTI implementation process with several national and international stakeholders, including H.E. Mohamed Abidine Mayif, Minister for Fisheries and Maritime Economy.