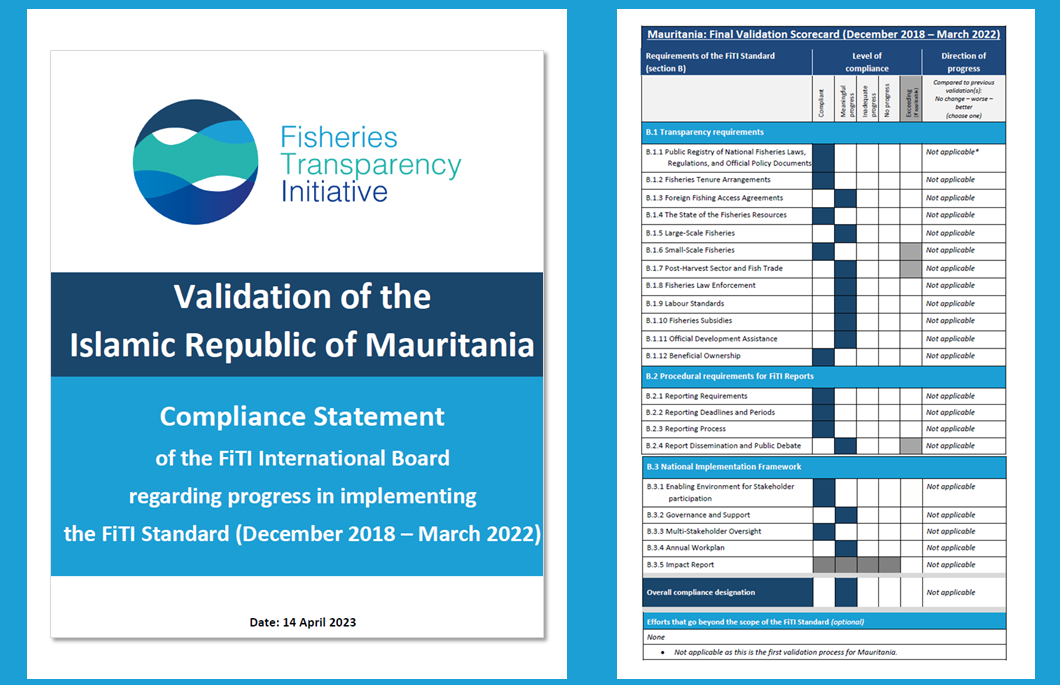 14 April 2023. As part of the country's first validation, the FiTI International Board determined that Mauritania has made 'meaningful progress' in implementing the FiTI Standard during December 2018 until March 2022. The Board congratulates Mauritania for this achievement, which demonstrates that significant aspects of the validation requirements have been fulfilled.
The FiTI ensures that all countries implementing the initiative apply the same global standard with the same level of quality. This is done through regular validations, assessing a country's compliance against the FiTI Standard. The FiTI International Board, the global oversight body of the FiTI, is responsible for country validations.
The first validation for the Islamic Republic of Mauritania covered the validation period from December 2018 to March 2022 and therefore, the country's first FiTI Report (covering the calendar year 2018) and second FiTI Report (covering calendar years 2019 and 2020) were included in the validation.
The outcomes of the validation underline that the Mauritanian government has made marine fisheries transparency one of its main political objectives and that undeniable progress has been made in improving transparency in the management of the fishing sector. Feedback from various stakeholders obtained during this validation process showed an appreciation of the FiTI process and noted that, among other things, the Mauritanian fisheries investment climate is now considered more favourable due to less risk of uncertainty caused by lack of prior information.
At the same time, transparency is not an activity to satisfy interested parties' curiosity for information, but as a catalyst for reforms in the sector. The impact of the FiTI in a country depends not only on improving public access to fisheries information but also on ensuring that this information is used to improve public debate and participatory governance. Therefore, successful implementation of the FiTI Standard in a country requires an enabling environment for stakeholder engagement. Mauritania's validation revealed several areas where the procedural aspects of FiTI implementation need to be further strengthened to ensure that transparency can have an even more positive impact on Mauritania.
The designation of "meaningful progress" means that Mauritania remains a FiTI Candidate Country for now.
As part of its final Compliance Statement, the FiTI International Board has issued five corrective actions for Mauritania which, if properly addressed, will enable the country to progress toward full compliance with the FiTI. The FiTI International Board will review the status of the implementation of these corrective actions during Mauritania's next validation process, which is expected to start in June 2024.
On behalf of the FiTI International Board, the FiTI International Secretariat will conduct a country mission at the end of April 2023 to discuss the outcomes of this validation and next steps with national authorities in Mauritania as well as the country's FiTI National Multi-Stakeholder Group.
The FiTI International Board's Compliance Statement for Mauritania's first validation, including the accompanying Report of the Independent Validator and the International Secretariat's Baseline Assessment Report, can be downloaded here: