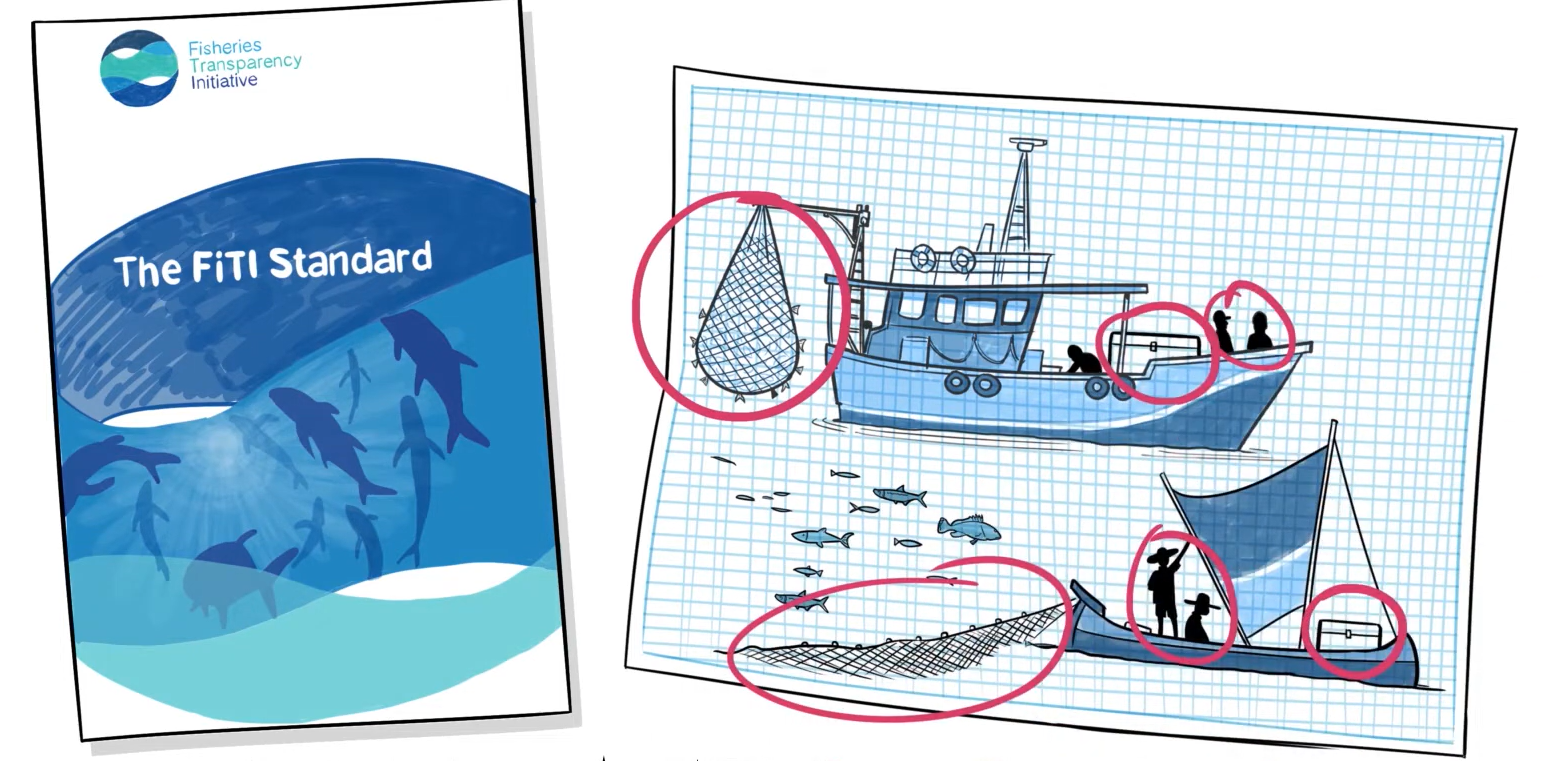 The FiTI International Board, the initiative's global oversight body, has established a dedicated Working Group to oversee the review of the FiTI Standard and make a recommendation to the FiTI International Board on how to update it to a version 2.0.
The FiTI Standard is the only internationally recognised framework that defines what information on fisheries management should be published online by national authorities. It was developed as a global multi-stakeholder endeavour, between July 2015 to April 2017, with input from governments of coastal states, industrial fishing companies, artisanal fishing associations, civil society organisations and intergovernmental organisations, such as the World Bank, the FAO, and the European Union.
The objective of the FiTI Standard is to contribute to the sustainability of marine fisheries by increasing the accessibility, credibility, and usability of national fisheries management information. The FiTI Standard covers 12 thematic areas of marine fisheries management.
Since its first release in April 2017, the FiTI Standard has shown to be an effective framework to improve public access to government information. This has been demonstrated by, inter alia, several FiTI Reports published by the National Multi-Stakeholder Groups (MSGs) of Seychelles and Mauritania, various online TAKING STOCK transparency assessments conducted by the International Secretariat, as well as lessons learned from the first two country validations that have concluded already for Seychelles and Mauritania.
At the same time, these activities, as well as developments in global marine fisheries governance, such as the recently released Agreement on Fisheries Subsidies by the World Trade Organisation (WTO) or stakeholder expectations regarding beneficial ownership, are showing several opportunities for improvements. These possible improvements of the FiTI Standard must be identified, discussed, and decided upon to ensure that the FiTI Standard remains widely accepted, six years after its initial publication.
The Working Group, consisting of members and observers of the FiTI International Board, determined the scope of the review as follows:
Clarifying sign-up steps (as outlined in section A of the current FiTI Standard);
Updating existing transparency requirements (as outlined in section B.1 of the current FiTI Standard);
Considering new transparency requirements; and
Strengthening the impact of transparency for participatory governance.
The FiTI International Secretariat has been tasked by the Working Group with reviewing the current FiTI Standard – in accordance with the review scope established above – and providing a comprehensive revision proposal to the Working Group for discussion. This revision proposal will be based on the International Secretariat's lessons learned of FiTI implementations and validations over the last three years as well as knowledge of changes in fisheries management legislation and stakeholder expectations. Furthermore, in order to ensure an inclusive process, external input will be sought from National Multi-Stakeholder Groups as well as fisheries and governance experts.
Afterwards, the draft revision proposal will be presented for public consultation.
It is currently expected that the entire process of reviewing the FiTI Standard will require up to 12 months.