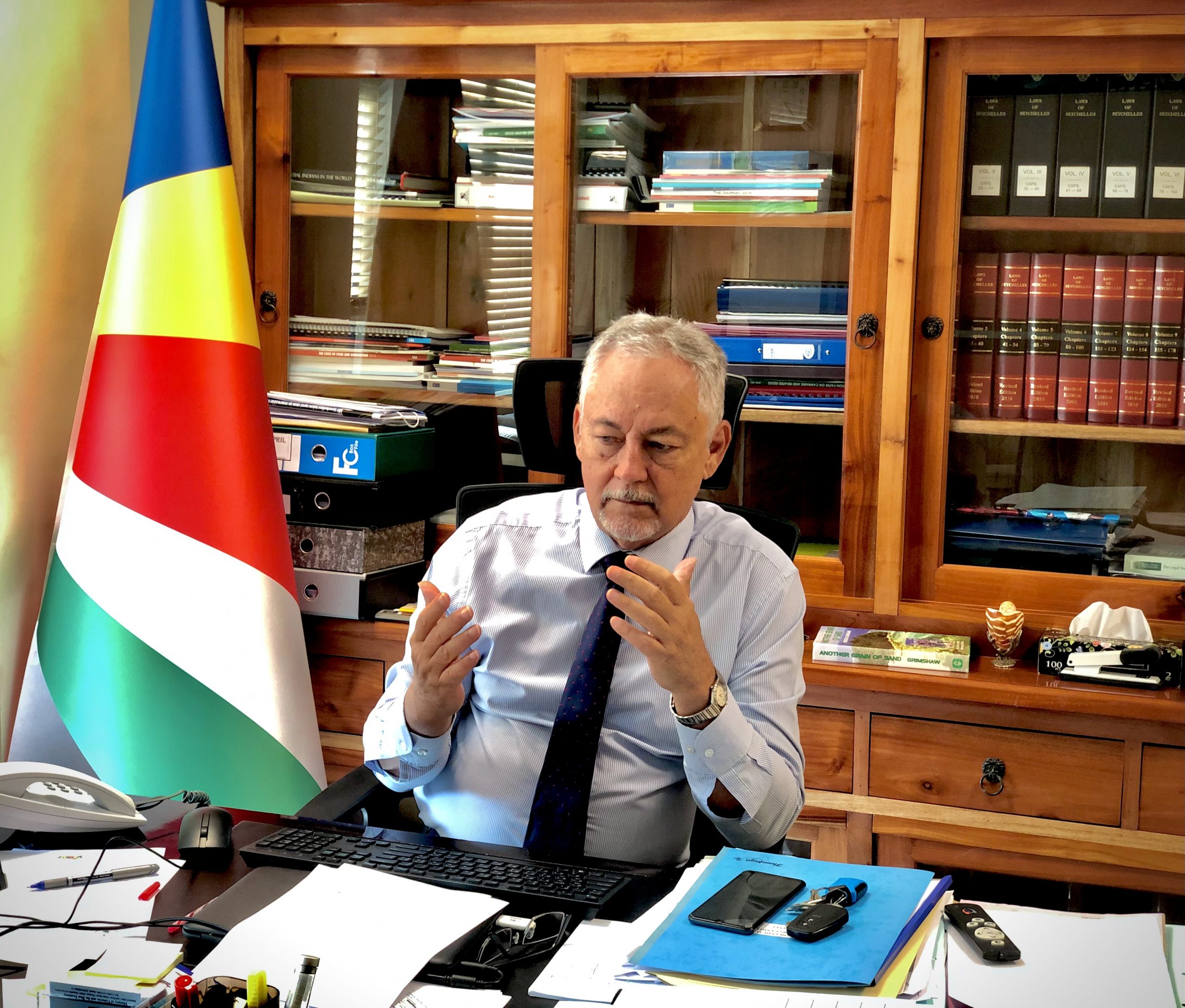 The FiTI International Secretariat [FiTI] sat down with Seychelles' Minister for Fisheries and Blue Economy, Jean-Francois Ferrari [JFF] to speak about the role of Seychelles in promoting transparency among other African countries and Small Island Developing States, including their engagement with regional fisheries management organizations, such as the Indian Ocean Tuna Commission.
[FiTI]: Many thanks for taking time to speak with us. Before we talk about your views on the wider picture of transparency in fisheries, we thought it would be useful to hear your thoughts on what the value has been for the Seychelles from the commitment to transparency and the FiTI?
[JFF]: My pleasure. Well, you know the Seychelles is a small island, but we have set ourselves the challenge of being the most transparent country in the world for our fisheries, which means we will be open about the bad as well as the good! One of the issues that I think is important is that when I became Minister, fisheries was under a lot of controversies and scrutiny, particularly about its sustainability. I am referring here in particular to the tuna fisheries involving both longline vessels and purse seine fishing vessels. There has been a lot of critical narratives about these industries, such as the use of FADs (fish aggregating devices), by-catch and other things. I understand those concerns and the fishery is certainly not perfect. We need to be improving things all the time. But the value of the FiTI Reports produced in the Seychelles is that it is a brilliant way of making sure debates on how fisheries are managed are based on credible facts and figures. The information in the FiTI Reports is independently verified by our own stakeholders, so as the Minister, it gives me confidence in discussing these issues and building trust with others.
[FiTI] That's interesting, so one of your main points here is that transparency – where it leads to more credible information for the public – improves the quality of debates on fisheries management?
[JFF]: That's right. Of course, there is always room for improvement. But I think we must be committed to opening up about the industry and making sure information used by the government is credible. That's how the government and the fishing industry gain respectability, which is not achieved when public information is limited or maybe not of good quality. Transparency is an obvious win for the government.
[FiTI] What about the benefits you have seen at the local level and for small-scale fisheries in the Seychelles? What has been the impact of your government's drive to increase the quality and publicity of information on your local fisheries?
[JFF] That's a really important issue as well. You know the process of completing the FiTI Report and communicating new information has not been easy. I can say that there have been some from our fishing communities who were negative about this. I think this is normal. Fishermen do not always like to be scrutinized! Fishers tend to be quite secretive about what they do. So when they hear this idea about increasing transparency on their work, there is obviously some initial resistance. But I don't think that is really the case now. I think our work with the FiTI has really helped raise the profile of fishers in our country and shows how important they are. As Minister I want to do everything possible to promote their ability to succeed, and I think transparency helps with that. Let me briefly tell you about a positive development. As we have been working on the FiTI we have been also working with fishers to help create district fishery organizations. I can say that is working well. Going through the process of making sure government information on the fisheries sector is reliable and detailed has really helped improve local engagement. So I think we should see the benefits of transparency on that level as well – it is about building trust and better collaboration.
[FiTI] Yes, it is positive to hear about this connection between government transparency and raising the profile of fishers. Transparency is often talked about as a negative thing for those under the spotlight.
[JFF] Yes, but that is not my view. Of course, transparency might have this negative connotation for some people. Some politicians do not want to be scrutinized, so they resist transparency. But I am a strong believer in partnerships. You can't develop good partnerships with others without being open and honest. And as I say, that means you have to be open about the things that are not going so well, not just the good things you are doing. As the Minister, it is not just politically correct to want transparency, it is politically smart.
[FiTI] This brings us to the wider context. We know you are interested in promoting transparency in fisheries to other countries. Can you briefly elaborate on that?
[JFF] I think the relationship between the Seychelles and the FiTI has been really positive for us. The Seychelles is proud to be pioneers on global initiatives. I think we have really taken the lead on many ideas, particularly on the Blue Economy and new ways to raise finance. Bringing transparency into these innovative responses to the Blue Economy is something we should be proud of, and of course we are interested in sharing our experiences with others. We are doing a lot of positive work with countries like Madagascar, Mauritius and Comoros to support them in taking forward transparency as well. What I believe is that if you are committed to transparency then go all the way.
[FiTI] Do you feel that transparency among member States of regional fisheries organizations, such as the IOTC, is an important theme now?
[JFF] Of course. As I was saying about tuna fisheries before, the current management at the regional level is not perfect and there is criticism from the public and the fishing industry. In my experience, the management of the IOTC should be commended, but a lot still needs to be improved. There is a lot of opportunity to make things better, such as on accountability and compliance. The IOTC is a collaborative effort, which requires a high degree of trust and openness between members in order to deliver on its objectives. A lack of transparency can therefore contribute to distrust and undermine collaboration. Beyond the issue of trust and partnerships, a fundamental issue is that responsible management of shared resources requires access to the best available information. Therefore, we need governments to be fully committed to collecting and sharing information. So, I think we need a stronger effort on transparency at this regional level. It is therefore very encouraging to see other countries in the region, such as Madagascar, committing to increase transparency through the FiTI, which provides a good framework for countries to follow. That is a message we continue to make. One thing I would say is that the information contained in our FiTI Reports was very detailed and it contained some information that was new for us at the Ministry. So putting together the FiTI Reports was not just about us, as the government, being transparent, it was also an important learning exercise.
But please allow me to make another important point here. Civil society and some of our fishing industries have concerns about the performance of the IOTC in managing highly migratory fish species as well, both in terms of sustainability and benefit sharing. While there might be valid concerns, what is also important is that a lack of credible information at the national level can contribute to misinformation and unfair criticisms. Unfortunately, there is a lot of detailed information that is being produced by the IOTC that is only published as highly technical reports. Many people in the Seychelles are not aware of these reports or are unlikely to read them. One of the good aspects of the FiTI Reports is helping to summarise this information and make it more accessible. I think that will mean we have better informed public debates.
[FiTI] A theme we are now understanding better is that the FiTI process, or transparency for governments in general, is valuable not simply because it involves governments publishing information, but it helps identify gaps in knowledge and how these can be improved over time. What has been your experience with that?
[JFF] I think we have really benefited from the quality of information in our FiTI Report and those in the Seychelles that did the work did a fantastic job. And, as you mention, at the same time, it helped us identify those areas where we need more or better information in the future. Closing these information gaps is an important aspect that we are discussing and also with our international partners, such as the World Bank.
[FiTI] When you describe the quality of the information included in the FiTI Report, it also highlights that the obstacles for advancing transparency in countries is not just about political will, but it is also about investing in time and resources to collate and publish information. What is your view on the reasons why some governments might resist transparency, including signing up to the FiTI?
[JFF] I think it is a mixture of things. Political will is always important, and that has been encouraging in the Seychelles. Outside of what we have been doing on fisheries, the Seychelles has made a lot of effort on transparency to address corruption more generally, which has been really positive. I think that demonstrates a strong political context for the FiTI. But without doubt raising the level of credible information on the fisheries sector and making this accessible to the public takes effort. Not wanting to spend time and money on improving government information on fisheries could act as a barrier for other countries joining the FiTI. But I think the example of Seychelles shows that the effort is worth it.
[FiTI] Back to the regional level, we were interested to hear about the new platform on fisheries for Small Island Developing States that the Seychelles is exploring with the support of the African Union. You held a meeting recently with representatives from Madagascar, Mauritius and Comoros. How do you think the issue of transparency will influence this platform?
[JFF] It is very early days on this platform. But the idea reflects a belief about coming together as countries to jointly tackle challenges and share ideas. But the platform is not just about African island states. I hope this extends to other island states as well. You know, small islands are vulnerable countries, and we have to work together. We will of course continue to raise awareness about transparency and it is so important as the basis of any collaboration. In my view transparency for governments makes them better global citizens.
[FiTI] Thank you for taking the time to talk to us, and we wish you all the best in going forward with the work on transparency in the Seychelles and among other like-minded states.
The interview was conducted on 18 August 2022 by Dr Andre Standing, Technical Advisor to the International Secretariat of the Fisheries Transparency Initiative, and Seychelles' Honourable Minister for Fisheries and Blue Economy, Jean-Francois Ferrari