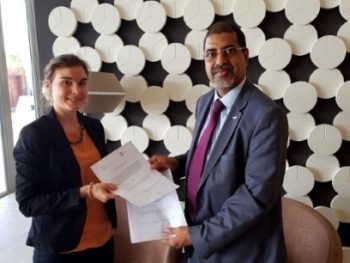 CONAKRY – 27 October 2017. The FiTI International Secretariat and the West African Regional Marine and Coastal Conservation Programme (PRCM) formalised their cooperation in promoting more responsible and sustainable fisheries through enhanced transparency and participation in the West African coastal countries. Both organisations have been working together since 2016 to accompany the FiTI implementation in Guinea, upon request from the Guinean Government.
The PRCM and the FiTI International Secretariat signed a Partnership Agreement during the 9th Regional and Coastal Forum of the PRCM, which took place in the Guinean capital on 23-27 October.
Through this partnership, joint efforts to promote transparency and participation in fisheries will be expended beyond Guinea, to all countries of the region covered by the PRCM: Cape Verde, The Gambia, Guinea, Guinea-Bissau, Mauritania, Senegal and Sierra Leone. The PRCM and the FiTI International Secretariat will work hand in hand to raise awareness on the importance of fisheries transparency and participation and to support FiTI implementation in the countries of the sub-region.
"The PRCM has long been supporting efforts to enhance transparency in fisheries. This is because more publicly-available information is essential for a more responsible management of our region's fish resources, which are already under pressure. This partnership with the FiTI is an opportunity to spread and advance concrete measures of transparency at the regional level with the commitment of all national stakeholders", said Ahmed Senhoury, Director of the PRCM.
"Achieving transparency needs a collective effort, from governments, businesses and civil society. We are delighted to join forces with the PRCM to mobilise all actors of the sub-region on the importance of transparency and participation in fisheries and to incorporate the FiTI into the broader goal of ocean conservation advocated by the PRCM. This partnership also demonstrates the strengthening of a strong regional approach for the FiTI", also said Sven Biermann, the Director of the International Secretariat of the Fisheries Transparency Initiative (FiTI).