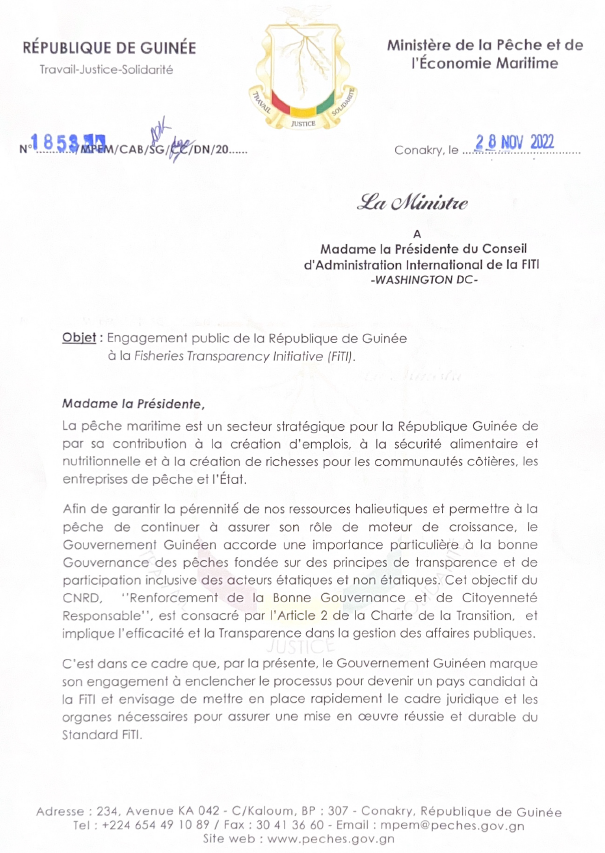 The government of Guinea has announced its public commitment to implement the Fisheries Transparency Initiative (FiTI). Guinea joins Mauritania, Seychelles, Senegal, Cabo Verde, Madagascar, São Tomé and Príncipe, and Ecuador in increasing transparency in its fisheries management through the FiTI Standard. The country's commitment was conveyed via an official letter by Her Excellency Charlotte Daffe, Minister for Fisheries and Maritime Economy to Dr Valeria Merino, Chair of the FiTI International Board.
According to the UN-FAO's country brief on Guinea, the fisheries and aquaculture sector is one of the pillars of the Guinean economy in terms of budget revenues, food security and jobs. However, the contribution of the sector to the national economy has fallen sharply in recent years. This decrease is mainly due to the notorious inadequacies of the fisheries management system which led to the overexploitation of most stocks of commercial interest. The state of the main stocks is often unknown, since the state of the fishery resources assessment studies are not available.
In her commitment letter Minister Daffe emphasized that "in order to guarantee the sustainability of our maritime resources and allow fishing to continue to play its role as a driver of growth, the Guinean Government attaches particular importance to the good governance of fisheries based on the principles of transparency and inclusive participation of state and non-state stakeholders. The government hereby marks its commitment to initiate the process to become a FiTI Candidate country and will quickly put in place the legal framework and the necessary structures to ensure successful and lasting implementation of the FiTI Standard".
With this commitment, the government of Guinea is setting decisive milestones for the country's FiTI implementation process, clearly stating its intention to appoint a FiTI Lead Ministry and a FiTI National Lead by the end of December 2022 and to fulfil all the other sign-up requirements (i.e. establishing a National Multi-Stakeholder Group (MSG), appointing a FiTI National Secretariat and providing the MSG's first annual workplan) within 2023.
According to Dr Valeria Merino, Chair of the FiTI International Board: "We welcome the public commitment from the national authorities in Guinea as a first step to increase transparency in fisheries towards the sustainable management of the country's marine fishing sector. Such a public commitment signals the intention of the country's government to improve its fisheries. Now, according to the FiTI Standard, this commitment must be followed by concrete implementation activities and subsequent approval of the country's application by the FiTI International Board in order for Guinea to be officially recognised as a FiTI Candidate country."
Over the next couple of months, the FiTI International Secretariat and its regional implementation partner – the Regional Partnership for Coastal and Marine Conservation in West Africa (PRCM) – will support the multi-stakeholder efforts in Guinea to complete the sign-up-steps required by the FiTI Standard. A country mission by the International Secretariat is scheduled for February/March 2023.