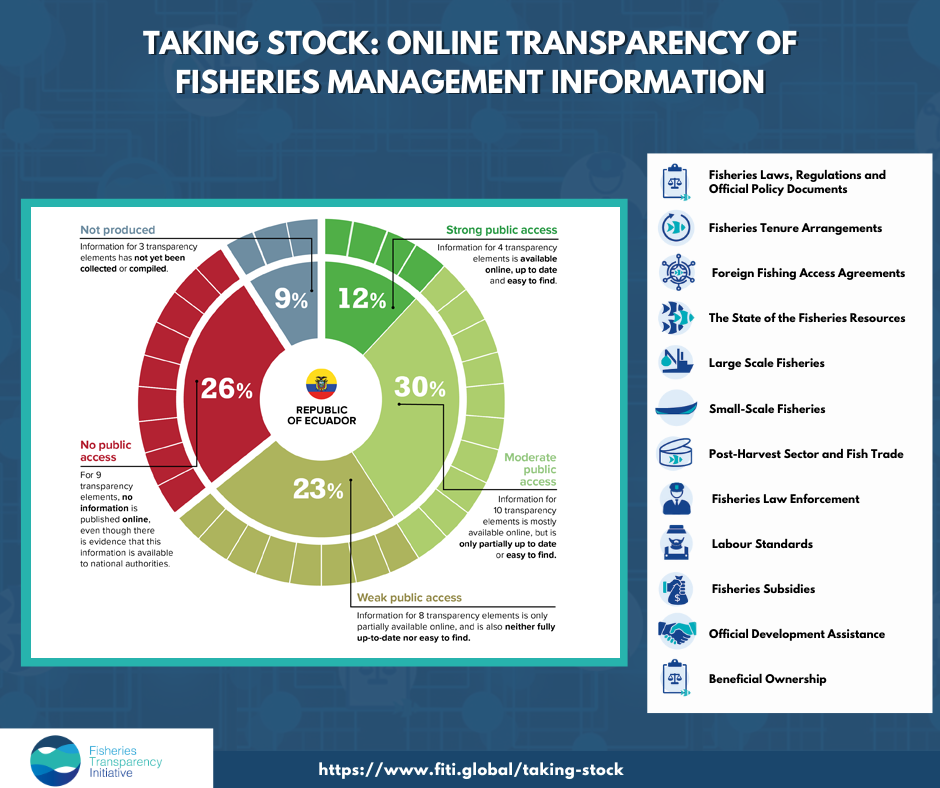 11 November 11, 2022. How transparent is Ecuador's marine fisheries sector? We answered this question today by publishing the findings of our TAKING STOCK assessment, evaluating the level of information that Ecuador's national authorities publish on government websites regarding the country's marine fisheries sector.
Conducted in collaboration with Conservation International Ecuador, the assessment examined public access to marine fisheries management information in Ecuador against the requirements of the FiTI Standard – the only internationally-recognized framework which defines what fisheries management information must be published online by governments.
Overall, this assessment shows that Ecuadorian authorities consider the collection and publication of online information on the fisheries sector to be an essential aspect of fisheries management: information on 22 of 34 applicable transparency elements (or 65%) is publicly available on government websites, although with varying quality.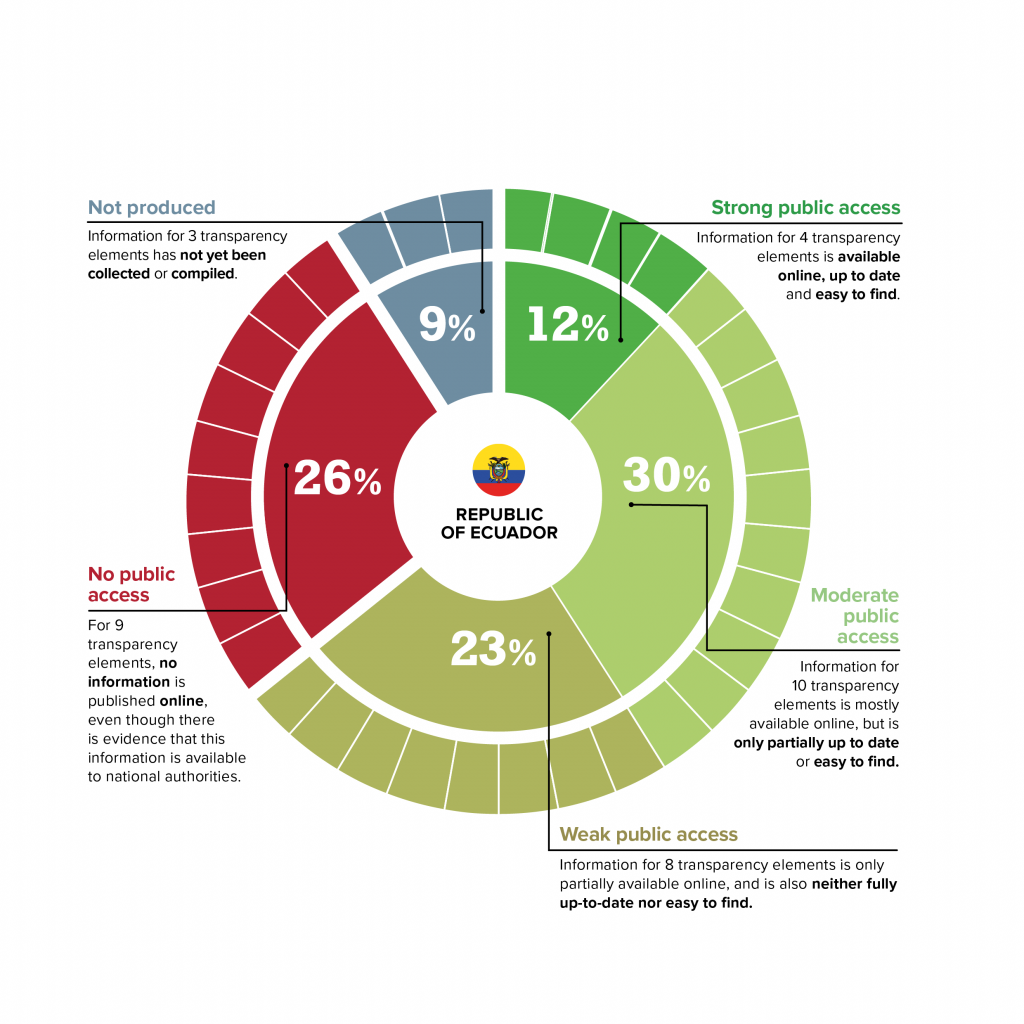 However, beyond simply evaluating what is and is not published online, the assessment also considered the quality of the information published, mainly whether it is freely accessible, up-to-date and easy to find by a layperson. These are all important factors in terms of supporting public understanding of the current state of the sector. In this regard, transparency in the marine fishing sector in Ecuador can be summarized as follows:
Out of the 22 transparency elements for which information is published by the Ecuadorian authorities, almost half (45%) fully meet the requirements of the FiTI Standard.
Fisheries information published by Ecuador's national authorities is mostly up to date (81%).
Only 32% of the information published online is considered easy to find for the layperson.
For 9 transparency elements (or 26%) no information is published online, even though the information is available to national authorities. This includes important aspects of fisheries management in Ecuador, such as payments made by large and small-scale fishing vessels to the state, discards, information on employment in informal fishing, sanctions for major offences, information on labour standards, and information on public sector development projects for Ecuador's fisheries sector.
Valeria Merino, Chair of the FiTI International Board stated that "the launch of this assessment represents a valuable contribution to the Ecuadorian marine fishing sector. It highlights the many positive aspects of the information that exists in the public domain, but also identifies opportunities for improvement to ensure information can be easily found and stimulates national discussions on fisheries management." She also pointed out that "this assessment is a valuable contribution to the recently formed FiTI National Multi-Stakeholder Group of Ecuador, which is in the process of formulating its work plan, in order to apply soon for the status of a FiTI Candidate Country."
Luis Suárez, Executive Director of Conservation International Ecuador, noted that "the TAKING STOCK assessment represents a first diagnosis of how transparency is being managed in Ecuador. Our country has been making various efforts in terms of transparency, and this is reflected in the creation of the country's FiTI National Multi-Stakeholder Group, the first in Latin America that brings together government entities, the private sector and civil society".
Andrés Arens, Vice-Minister of Aquaculture and Fisheries mentioned that "at the Vice-Ministry of Aquaculture and Fisheries we are fully aware that transparency is key for seafood sustainability, and this TAKING STOCK assessment is very timely for us as it evaluates us against the FiTI Standard that we have committed to implement and comply with."
The results of the TAKING STOCK assessment for Ecuador are published in a Summary Assessment Report (available in English and Spanish), as well as in a Detailed Assessment Report (available in Spanish).
Ecuador's assessment was funded by the Gordon and Betty Moore Foundation and carried out under the supervision and responsibility of the FiTI International Secretariat.