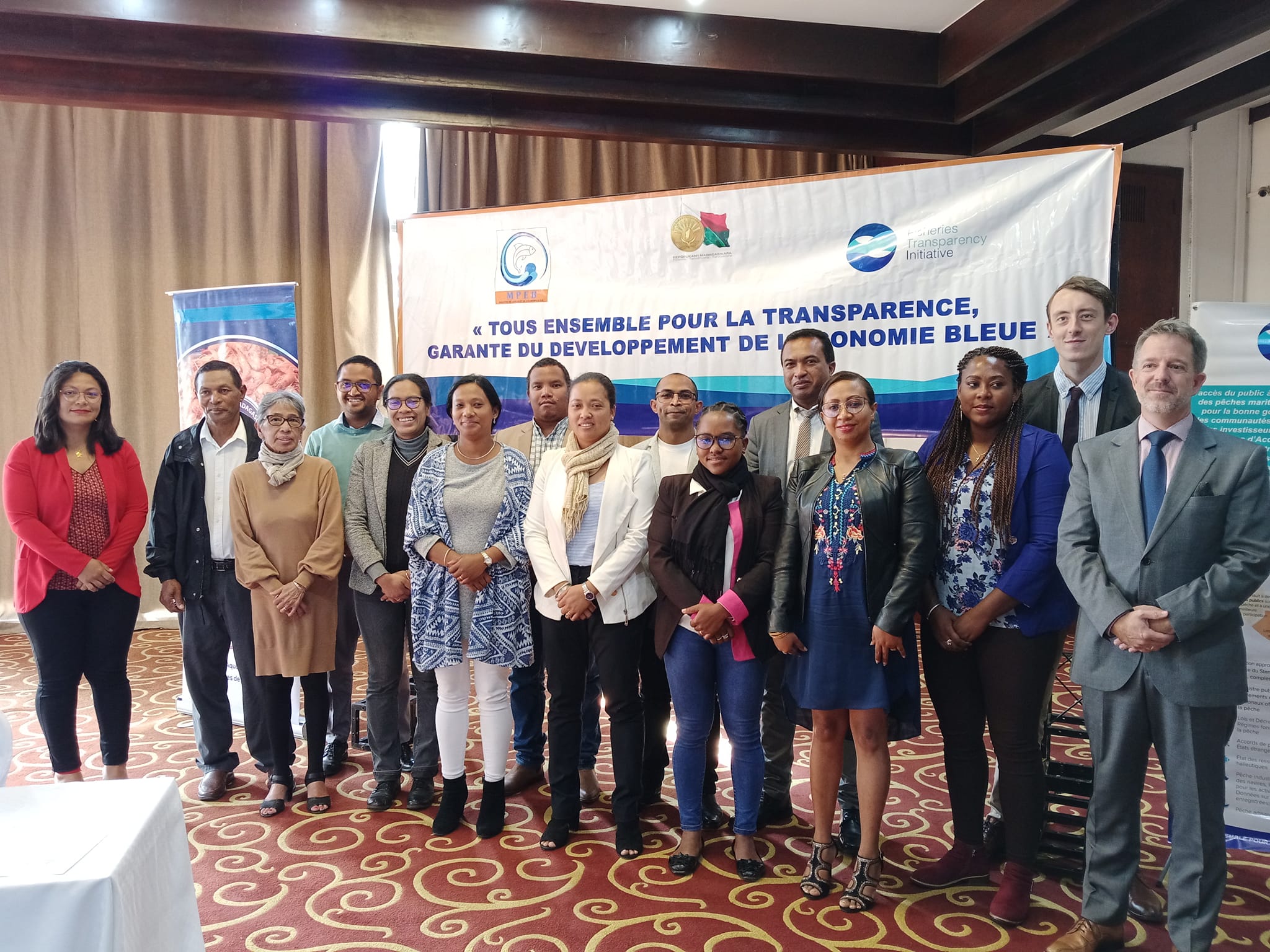 Antananarivo, 14 September 2022. Today, the FiTI National Multi-Stakeholder Group (MSG) for Madagascar was officially formalised in a workshop held at the Carlton Hotel, Antananarivo. The workshop, which was attended by roughly 40 participants, saw the members of the FiTI National MSG trained on their roles and responsibilities and engage in lengthy discussions on the opportunities and constraints facing the implementation of the FiTI in Madagascar.
"With this workshop, the multi-stakeholder foundations for improving fisheries transparency in Madagascar are now in place," said Mr. Will May, FiTI's Regional Coordinator for the Western Indian Ocean in his opening address. "Members, the FiTI process is truly your process. I encourage each and every one of you to take ownership of your roles and responsibilities within Madagascar's transformative journey towards fisheries transparency. Its implementation needs your expertise, knowledge, network, and time if it is to be effective," he added.
With 12 seats on Madagascar's FiTI National MSG in total, which are equally divided between government bodies, the business sector, and civil society organisations, the group consists of the following institutions:
| Public sector | Business sector* | Civil society sector |
| --- | --- | --- |
| Ministry of Fisheries and Blue Economy | Groupement des Armateurs à la Pêche Crevettière de Madagascar (GAPCM) | WWF Madagascar |
| Ministry of Justice | Réfrigépêche | Transparency International – Initiative Madagascar |
| Ministry of Environment and Sustainable Development | Comité de Gestion du Poulpe | Rohy Madagascar |
| Ministry of Transport | Coopérative FMMA | Coalition Nationale de Plaidoyer Environnemental (CNPE) |
*Both large-scale and artisanal business representatives.
The FiTI National MSG is presided by a non-voting Chair, Mrs Narindra Raharison, Director of Legal Affairs and Litigation within the Ministry of Fisheries and Blue Economy (acting also as the FiTI National Lead in Madagascar).
The formation of this group represents a key milestone in Madagascar's fulfilment of the six sign-up steps required to join the FiTI as an official Candidate Country.
Two days before the workshop, the members of the group convened to validate its Terms of Reference.
In Madagascar, like in every FiTI implementing country, the National MSG will be responsible for collectively producing annual FiTI Reports that provide an assessment of the accessibility and completeness of information published by the government, in line with the requirements of the FiTI Standard. The group is also responsible for making joint recommendations on how national authorities can continue to improve transparency levels over time and for contributing to public debates on the management of the fisheries sector.
The group is now turning its attention to producing its first annual workplan for 2022-2023, the sixth and final sign-up step. After this workplan is produced and validated by all members, the National MSG will then be able to submit Madagascar's Candidate application to the FiTI International Board. It is expected this will happen before the end of December 2022.