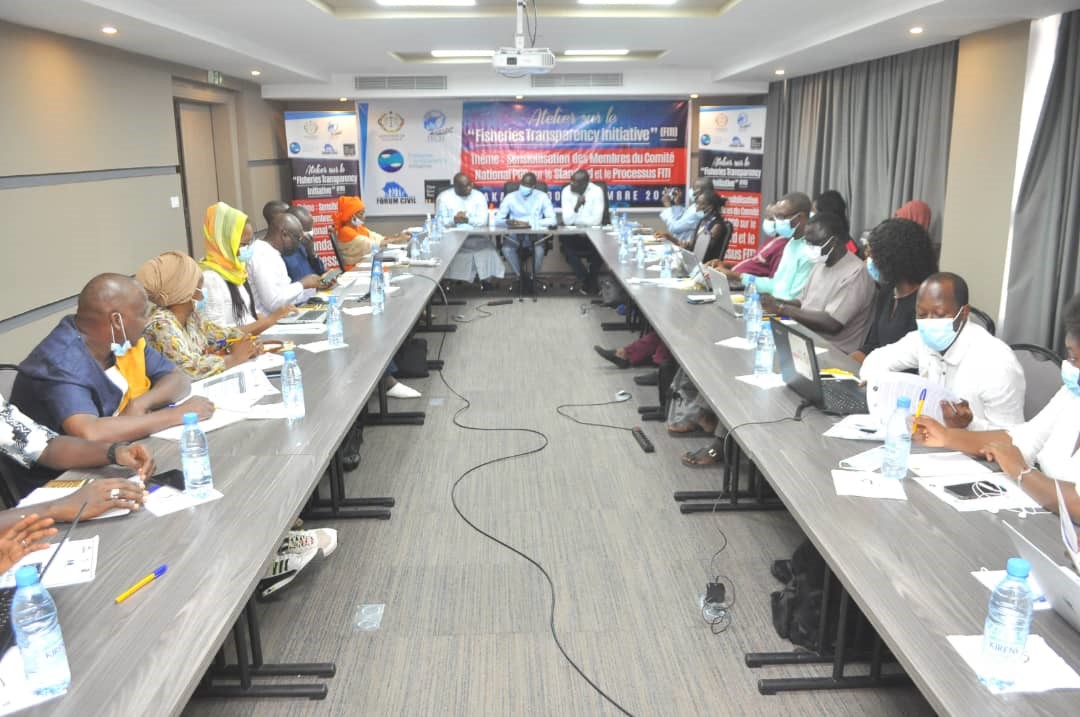 Dakar, 30 September 2021 – As part of Senegal's National Action Plan 2021-2023 within the framework of the Open Government Partnership (OGP), a workshop for raising awareness and sharing experiences of transparency in fisheries management was organized by the Fisheries Transparency Initiative (FiTI), the Forum Civil and the Ministry of Justice of Senegal.
Despite the fact that Senegal's President Macky Sall made a public commitment to implement the FiTI in February 2016 (during the FiTI's 1st International Conference in Nouakchott/Mauritania), implementation progress has been slow. With the inclusion of a commitment to implement the FiTI as part of the country's first OGP National Action Plan, the FiTI can help promoting transparency, participation and accountability in the fisheries sector, e.g. by:
Setingt up a system for collecting, processing and publishing data concerning the sector;
Strengthening dialogue between the various stakeholders in order to improve transparency and the participation of actors in the governance of the sector.
The workshop's objective were to familiarize the members of the National Committee of OGP with the FiTI Standard and to speed up the process of submitting an candidate application of the country to the FiTI International Board. The workshop was chaired by Mr. Cheikh Fall Mbaye, Director of the Promotion of Good Governance within the Ministry of Justice, and Senegal's focal point to the OGP.
"The FiTI Standard is the only internationally recognised framework that defines what information on fisheries management should be published online by national authorities. The FiTI Standard was developed over two years in a global multi-stakeholder endeavour. Its objective is to increase the credibility and quality of national fisheries management information."
The workshop recalled the highly strategic position of the fisheries sector for Senegal with regard to its contribution to employment (600,000 jobs officially), food and nutritional security (70% of animal protein intake) and the creation of income (241 billion CFA francs in 2014).
The workshop also underlined that the Senegalese fisheries sector is faced with several challenges, most notably the lack of credible, accessible, timely and comprehensive information on the sector. This affects not only the capacity of national authorities to manage fisheries efficiently and sustainably, as well as the ability for effective oversight, accountability and public dialogue. A lack of transparency also marginalises or undervalues certain groups or fisheries sub-sectors (in particular artisanal fisheries and the role of women). All this makes it urgent for Senegal to adhere to the FiTI Standard and its 12 requirements.
While praising the "personal involvement of each member of the committee", Cheikh Fall Mbaye assured the "commitment of his ministry to advocate with other ministries for Senegal's membership in the FiTI, which is a real challenge".
Mr Birahim Seck of the Civil Forum stated further that "fishing in Senegal is facing a data crisis resulting from a lack of transparency; requiring the country to join the FiTI".