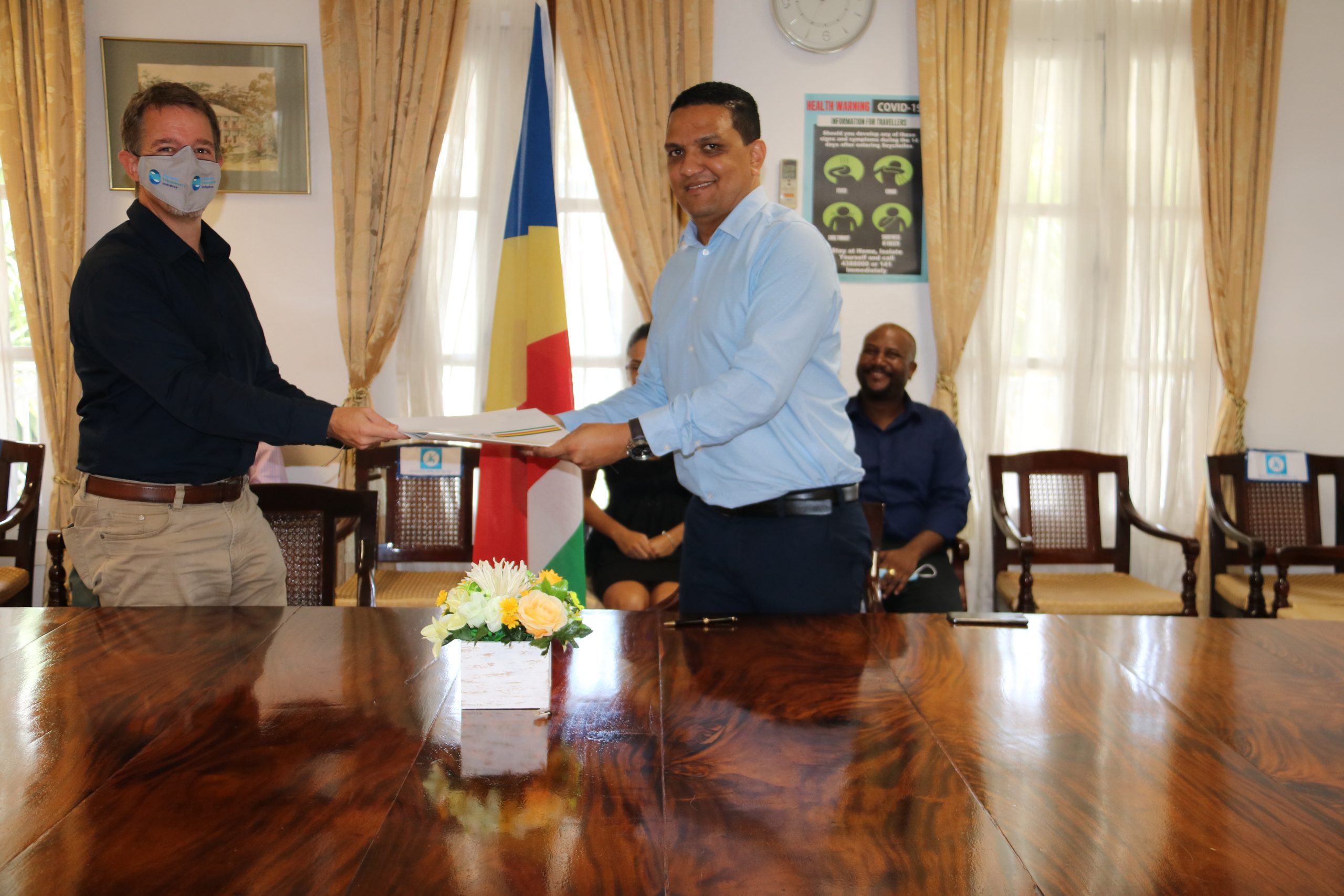 Victoria, 22 October 2020. The Headquarters Agreement for the Seychelles to host the International Secretariat for the Fisheries Transparency Initiative (FiTI) was signed today in a short ceremony at the Department of Foreign Affairs.
The Fisheries Transparency Initiative is a global multi-stakeholder partnership, where governments, business and civil society collaborate jointly. It seeks to increase transparency and participation for the benefit of a more sustainable management of marine fisheries and the well-being of citizens and businesses that depend on the marine environment. The platform is self-funded and does not depend on its host country.
The Agreement was signed by the Principal Secretary for the Blue Economy, Mr Kenneth Racombo and the Executive Director of the FiTI International Secretariat, Mr Sven Biermann.
"This is an achievement for Seychelles towards promoting transparency and good governance, it is also reflective of the Seychelles' reputation that such a prestigious organisation has chosen to select Seychelles to establish its Head Office especially since observation of the international arena has indicated that countries are veering towards promoting sustainable development" PS Racombo stated.
FiTI International Secretariat was formerly hosted by the HUMBOLDT-VIADRINA Governance Platform, a not-for-profit organization in Berlin, Germany and the move to Seychelles makes her one of the first countries in the global south to host such an international transparency initiative.
Mr Biermann expressed his gratitude, "We are proud to call the Seychelles our new home for the Fisheries Transparency Initiative (FiTI), and are grateful to the Government of Seychelles for their commitment to the initiative, not only as an implementing country, but also as the host country for the FiTI. With today's signing of this Headquarters' Agreement, both parties document their long-term commitment for improving the public availability of fisheries management information, in Seychelles as well as globally".
The Fisheries Transparency Initiative, being the only global agreement that defines what information on fisheries should be published online by governments, is an ideal tool for the Seychelles to increase not only transparency in this sector, but also emphasise on comprehensive endeavours for open government. The implementation of the FiTI in the Seychelles is led by a National Multi-Stakeholder Group with the Department of the Blue Economy serving as the Seychelles FiTI National Lead.