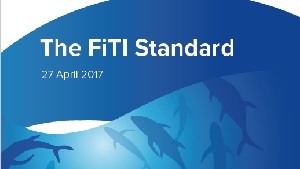 INDONESIA – 27 April 2017. Participants of the 2nd International Conference of the Fisheries Transparency Initiative adopted the first FiTI Standard, which sets out the requirements that countries must follow to be part of the FiTI. The FiTI Standard is the outcome of extensive discussions, spanning nearly two years, by members of the FiTI International Advisory Group, including representatives from governments, large-scale and small-scale fishing sector organisations, international organisations and civil society groups working on fisheries and marine conservation. A public stakeholder consultation was carried out in March 2017.
"Through this Standard, the FiTI makes a unique contribution to the sustainable development of fisheries by setting clear requirements on what is expected from countries regarding transparency and multi-stakeholder participation in fisheries" said Peter Eigen, Chair of the FiTI International Board.
At the heart of the FiTI Standard is an agreement on what information on fisheries should be published online by public authorities. It comprises 12 transparency requirements and is applicable to all countries. "While the FiTI Standard provides this comprehensive list of transparency requirements, it does not expect all countries to have complete data for every transparency requirement from the beginning. Instead, public authorities must disclose the information they have, and where important gaps exist, they must demonstrate improvements over time" clarified Sven Biermann, Director of the International Secretariat.
The establishment of the FiTI Standard marks the beginning of the implementation phase of the initiative through which FiTI countries will increase transparency and participation in fisheries governance for the benefit of a more sustainable management of marine fisheries.
More information regarding the FiTI Standard can be accessed here.